Yorkville Sound to Distribute Dynaudio PRO Studio Monitors in United States and Canada
November 2015
Yorkville Sound is pleased to announce that as of December 1, 2015, they will be the exclusive North American distributor for Dynaudio Pro line of premium studio monitors.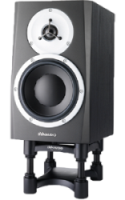 Founded in 1977 in Skanderborg, Denmark, Dynaudio has a long history of producing professional monitors used by some of the top studios and engineers working today. With their proprietary speaker technology and premium custom component manufacturing they offer a company perspective that few pro audio manufacturers can match.
"After 16 years with Dynaudio PRO being distributed worldwide by TC|GROUP, the time has come for Dynaudio to take a more direct lead in distributing our professional studio monitors," explains Ole Jensen, VP Sales at Dynaudio. "Therefore I am very happy to appoint Yorkville Sound, as the distributor for Dynaudio PRO throughout North America."
Dynaudio will find a perfect synergy with other studio product already distributed by Yorkville Sound, including tube processing from Applied Research & Technology (ART), microphones and headphones from Apex Electronics and of course Yorkville's own line of YSM Series Studio Monitors.
"The opportunity to take on distribution of Dynaudio Pro in North America was an easy decision to make," adds Jeff Cowling, VP Sales and Marketing at Yorkville Sound. "This premium brand has a great reputation for unmatched sonic quality, and the team in Denmark shares many of the philosophies and manufacturing integrity that Yorkville Sound values and practices."
"Yorkville Sound's long-standing relationships with key industry players makes this a great fit for both our US and Canadian sales teams. We look forward to supporting and promoting this important studio monitor brand, and we're excited at the promise of new products in 2016."
Retailers currently carrying Dynaudio Pro, or are interested in becoming dealers for this premium brand are encouraged to contact Yorkville Sound at 716-297-2920 (US) or 905-837-8777 (Canada) for more information.
---
Downloads
---
Do not send an email here if you are human: Gerroff
Media Contact:
James Greenspan
Marketing/Communication Manager
Phone: (905) 837-8550 ext 257
Email: [email protected]